The Ones That Got Away
by Michael Sigman

Growing up as the eldest of Carl Sigman's three sons, I have vivid memories of his songwriting career. My very earliest childhood recollections conjure my mother screaming "plug!" and the family gathering around the radio every time she caught one of his hits. As a nine year old in day camp, I would change into my baseball uniform in the locker room every day while the radio played Tommy Edwards' "It's All In The Game," the #1 hit that summer. Watching the "Perry Como Show" on TV every week, I was thrilled to see Como sing his theme, "Dream Along With Me." (Once when my dad took me into New York City to make the rounds at the Brill Building, we ran into Perry and he gave me a quarter, which I kept in my jacket pocket for years.) Later, as a high school junior, I suddenly became cool when The Righteous Brothers had a top-5 hit with the monumental, Phil Spector-produced "Ebb Tide." Lenny Welch even called me up to the stage when he sang "Ebb Tide" at my senior prom!
__But some of my richest childhood recollections were of the songs that got away, wonderful lyrics that had to be compromised, or pieces that would have become standards but were rejected outright for one reason or another.
__In 1953, my father wrote a spiritually influenced lyric to the beautiful German tune "Mutterlein" and called it "Answer Me, Lord Above." The publisher didn't think that would fly commercially, so under protest it became "Answer Me, My Love." As it turned out, both versions became hits, "Lord Above" reigning as the #1 record in the UK by Frankie Laine in 1953, with the more secular version charting for Nat Cole and then covered over the years by dozens of artists, including Bing Crosby, Brian Ferry, The Impressions, Johnny Rivers and Joni Mitchell.

Carl at the piano at his Florida home.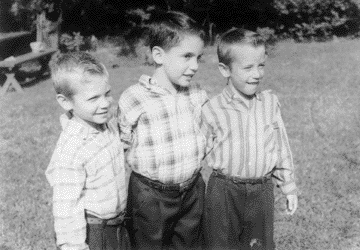 __In 1959, Dad got the plum assignment to write the lyric for the theme from Exodus, an Otto Preminger blockbuster in the making. I'll never forget lying in my bed and crying to the moving lyric he composed: "It all began 5000 years ago, They made me leave my place of birth, That was the Exodus, the start of Exodus, And ever since I've roamed about the earth." Unfortunately, there were studio politics to contend with, and no less a songwriter than Pat Boone ended up writing the lyrics to the iconic tune. Anyone remember them?
__In 1960, the movie A Summer Place was a success, and the instrumental "Theme From A Summer Place," composed by Percy Faith, was the biggest hit record of the year. Percy and Carl were very close friends and had written many songs together, including the 1950 smash "My Heart Cries For You." So it was natural for dad to get the assignment. He delivered a terrific lyric called "I Grew Up Last Night." All systems seemed go, and no one alive today can remember exactly what happened, but next thing we knew another lyric was approved. So Dad wrote his own tune to the lyric and Leslie Uggams released it. >

His three sons, Randy, Michael and Jeff, 1957.