The Songs
by Gregg Geller, David McGee & Michael Sigman

A Day In The Life Of A Fool — Frank Sinatra recorded twelve songs written by Carl Sigman, including this one for his own Reprise label in 1969: the English lyric version of Luis Bonfa's "Manha de Carnival" from the classic foreign film Black Orpheus. Jack Jones had hit the charts with his take on the song in 1966, but Sinatra's Don Costa-arranged rendition remains definitive.

All Too Soon—A collaboration with Duke Ellington, recorded by the "Rockin' Chair Lady," Mildred Bailey, in 1941 at Decca with legendary producer Milt Gabler; in 1957 Ella Fitzgerald included it in her Duke Ellington Songbook on Verve. Among the others who have cut it: Lambert, Hendricks & Ross, Peggy Lee, Sarah Vaughan, Anita O'Day.

Answer Me, My Love — A German song, "Mutterlein," rendered by Carl Sigman as "Answer Me, Lord Above," hit #1 in the UK for Frankie Laine in 1953. The next year, its title and lyrics altered ever-so slightly by Sigman for still broader appeal, the same song became a Nelson Riddle-arranged Nat King Cole standard on Capitol Records, revived by Joni Mitchell in 2000 on her Reprise orchestral pop album Both Sides Now. Bob Dylan is known to have performed it in concert circa 1991.

Around The Corner — As lead singer of The Drifters and later as a solo artist, Ben E. King specialized in a kind of urban love song ("Spanish Harlem," et al) of which this 1964 Atco recording is a prime, if obscure, example. Not so obscure, however, that Mink DeVille didn't cover it on the 1983 album Where Angels Fear To Tread.

Arrivederci, Roma — Virtually every Italian-American singer of note has recorded this title (as have many others, including Abbe Lane with Tito Puente & His Orchestra!), but rarely is a singer so perfectly matched with a song as Dean Martin was with this one by Capitol Records in 1961.

Ballerina — A #1 record for baritone-bandleader Vaughn Monroe in 1947, this number returned to the charts ten years later in a swinging Nelson Riddle arrangement to become yet another signature song for Nat King Cole with Capitol. Written with Bob Russell, it's sometimes known as "Dance, Ballerina, Dance."

Before Long — Long before "Hello Dolly" and "What A Wonderful World," Louis Armstrong was trying his hand at contemporary pop material; the recording of this Carl Sigman collaboration with Satchmo's drummer Sid Catlett dates from the very first Louis Armstrong & His All-Stars RCA Victor studio session in 1947.

Buona Sera — Originally written with Peter De Rose as a conventional love song and recorded as such by Louis Prima on Mercury in 1950, the King of the Las Vegas lounges then re-cut it in 1956, transforming it into a tour-de-force display of his inimitable style for Capitol Records. It was subsequently covered by the English ska revivalists Bad Manners, who charted with the song in 1981, and, inexplicably, by dozens of Eastern European rock bands in the years since the fall of the Berlin Wall.

Busy As A Bee (I'm Buzz, Buzz, Buzzin') — A classic big band arrangement by Fletcher Henderson for "King of Swing" Benny Goodman and His Orchestra, recorded in late 1939 by Columbia Records. Vocals by Helen Forrest. Written with Bob Russell and Joseph Meyer.

Careless Hands — A strikingly modern sounding #1 smash for "The Velvet Fog," Mel Torme, in 1949, early in his post Mel-Tones solo career with Capitol Records. This song, written with Bob Hilliard, also provided a vehicle for Dottie West to extend her long run of country chart successes at RCA in 1971. Then, a decade later, Jerry Lee Lewis and his pumpin' piano left their indelible mark on the song.

Civilization (Bongo, Bongo, Bongo) — Carl Sigman's only stab (partnered with Bob Hilliard) at a Broadway musical, Angel In The Wings, ran for 308 performances at the Coronet Theatre in 1947-48 and provided Elaine Stritch with this show-stopper in her debut on the Great White Way; fifty-three years later she reprised the song in the autobiographical one-woman show At Liberty, preserved for posterity by DRG Records. But back in 1948 it had topped the charts for Decca in a romp by comic actor Danny Kaye and The Andrews Sisters.

Come In Out Of The Rain — One of three Sigman copyrights ("My Fair Lady" and "Paint Yourself A Rainbow" are the other two) cut by The King Cole Trio, Nat on piano and vocals, for Capitol, this 1946 collaboration with Bob Russell was revived in 1959 at Epic Records by singer, pianist and Academy Award- winning actor Jack Lemmon. Who knew?

Crazy He Calls Me — Since its introduction in 1949, the Decca recording of this Sigman-Russell collaboration by Billie Holiday, arranged by Gordon Jenkins, has had a profound influence on singers of every generation and type, from Dinah Washington to Peggy Lee to Aretha Franklin to Linda Ronstadt. Change its name to "Crazy She Calls Me" and find it on Lady Day tribute albums by Sam Cooke and Tony Bennett.

Don't Ever Be Afraid To Go Home — Written with Bob Hilliard, this swinging title was an unlikely choice of repertoire by the recently-divorced Frank Sinatra, who included it amongst his final few recordings for Columbia Records in 1952. Perhaps it was the influence of his original inspiration, Bing Crosby, who released the song in 1952 too.

Dream Along With Me (I'm On My Way To A Star) — Recorded by Perry Como for RCA Victor in 1956, this beautiful song, with words and music by Carl Sigman, was heard every week for the next seven years as the theme song of his long-running Saturday night NBC-TV variety show, where, as the relaxed one noted, "very few people ever heard (it) all the way through." Revived in that perpetually-running homage to the '50s, the musical Forever Plaid.

Ebb Tide — In 1953 British orchestra leader Frank Chacksfield topped the charts with his arrangement of the haunting Robert Maxwell-composed melody of this song. Once its Carl Sigman-penned lyric was completed, the covers came in a flood that has yet to subside. Vic Damone was first into the top 10 later that same year, followed by the under-appreciated Roy Hamilton with a #5 R&B smash for Epic the following year. In 1956, it was an essential element of the classic Nelson Riddle-arranged album Frank Sinatra Sings For Only The Lonely on Capitol. The Platters added it to their string of Mercury hits in 1960 and, in 1965, Phil Spector produced a majestic version by The Righteous Brothers, which peaked at #5 for his Philles label. "The whole wedding of the tune to the lyric (or, I should say, of the lyric to the tune) is the most natural, the best and the easiest I've ever written," said Sigman.

Enjoy Yourself (It's Later Than You Think) — A top 10 Decca single for Guy Lombardo & His Royal Canadians, with vocals by Kenny Gardner, in 1950,
this collaboration with lyricist Herb Magidson found new life when 2-Tone English ska band The Specials revived it in the early 1980s. Its message, however, is eternal.

Hand Me Down Love — Another Carl Sigman-Duke Ellington collaboration, this one interpreted by English grande dame of vocals Cleo Laine at a 1957 big band date in London, early in her career.

Hop Scotch Polka (Scotch-Hot) — A novelty number cut by Bob Crosby, Mitch Miller, and Guy Lombardo & His Royal Canadians, with vocals by Kenny Gardner, whose 1949 Decca recording of it became the first big hit for The Richmond Organization, a soon- to- be powerhouse music publishing company. Promoting the song, Carl Sigman appeared on the cover of The Cash Box playing (what else?) hop scotch.

How Will I Remember You — In 1961, Rosemary Clooney entered the studio with arranger Nelson Riddle to record Love, a concept album inspired by their (real life) love affair. This song, included therein, is crucial to the tale as told in that small masterpiece of the recording arts, released by Reprise Records in 1963.

I Could Have Told You — With a melody by Jimmy Van Heusen (in between his partnerships with Johnny Burke and Sammy Cahn), Carl Sigman scored yet another cut by Frank Sinatra, arranged by Nelson Riddle for Capitol Records in 1953. Esther Phillips gives his lyric a jazzy R&B reading of a Ray Ellis chart in 1965 on Atlantic Records. Other noteworthy recordings: Brook Benton and Dinah Washington, separately, and John Pizzarelli, recently.

If You Could See Me Now — Tadd Dameron's unusually complex modern melody makes this the Carl Sigman song of choice for jazz vocal aficionados of all eras. It provided Sarah Vaughan with her breakthrough recording for Musicraft in 1946 (in 1998 that single was inducted into the Grammy Hall of Fame) and Mel Torme with a valedictory of sorts in a 1995 Concord session with Rob McConnell and The Boss Brass. Other versions of note: Carmen McRae, Billy Eckstine, Natalie Cole and Dianne Reeves.

It Worries Me — Yet another Nelson Riddle-arranged recording by Frank Sinatra from early in his career at Capitol, this one hit the charts in late 1954. Lyrics by Carl Sigman, in a prime example of his conversational songwriting style.

It's All In The Game — The answer to the question: which #1 song was co-written by a Vice President of the United States? Composed by Charles G. Dawes, veep in the Coolidge administration, as a classical flute piece, with lyrics added by Carl Sigman in 1951. On the day that he finished the lyric, Sigman learned that Dawes had died of a heart attack, leading his publisher, Mac Goldman, to quip, "Your lyric must have killed him." This standard-to-be first found its way to prominence in a prototypic version by Tommy Edwards, which rose as high as #18 for M-G-M in late 1951. Seven years later, a new recording in the contemporary doo-wop mode by the same artist for the same label was top 10 for twelve weeks, topping the charts for six of them. And then, the deluge. Among its many covers: a supper club soul rendition that went top 10 R&B for Motown's The Four Tops in 1970; two Country chart entries, by Tom T. Hall on Mercury and Merle Haggard on MCA in the 1970s and '80s respectively; a genre-transcending interpretation by Rock and Roll Hall of Famer Van Morrison on his 1979 Warner Bros. album Into The Music; and many, many more.

It's A Marshmallow World — Written with Peter De Rose in 1949, this seasonal song had settled into the life of a hardy perennial with covers by such singers as Dean Martin, Bing Crosby, Brenda Lee, Johnny Mathis and sundry others when producer Phil Spector included it on his immortal 1963 Philles album A Christmas Gift For You in a stirring vocal turn by Darlene Love. Christmas has never been quite the same.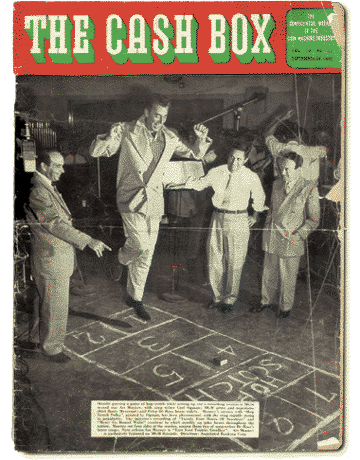 It's Crazy — Recorded by the versatile singer, composer (he co-wrote "He Ain't Heavy, He's My Brother" with Bob Russell), arranger-producer Bobby Scott at a 1968 Columbia Records session. A saloon song Sinatra somehow missed.

It's Square, But It Rocks — Further proof that Count Basie & His Orchestra helped lay the groundwork for rock and roll is to be found in this swinger by the big band, fronted by singer Helen Humes, for OKeh Records in 1941. For the uninitiated, it's the dance floor that's square, but rocks, according to this Sigman lyric for a Freddie Slack rhythm number.

Just Remember — The first Carl Sigman song to be recorded was this 1936 collaboration with Johnny Mercer which generated at least three covers in Great Britain, one by BBC Orchestra leader Henry Hall, another by Henry Jacques and His Correct Dance Tempo Orchestra (he was billed on the HMV label as "Britain's Champion Dancer of 1934-36") and the lovely rendition by Australian expatriate singer-violinist Brian Lawrance & His Lansdowne Orchestra, recorded for Rex Records on March 22, 1938, that kicks off this collection.

Lonely Is The Name — A collaboration with German arranger-producer and orchestra leader Bert Kaempfert, who had recently co-written "Strangers In The Night" for Sinatra. Producer Jimmy Bowen gave the song to Sammy Davis Jr. who cracked the charts with it for Reprise in 1968.

Losing You — This dramatic ballad turned out to be the last (thus far) in a long line of top 10 singles for "Little Miss Dynamite," Brenda Lee, whose 1963 Decca release was produced by Nashville Sound progenitor Owen Bradley.

Love Lies — It was on July 17, 1940, near the beginning of his time with Tommy Dorsey & His Orchestra that Frank Sinatra waxed his first Carl Sigman copyright, for Victor. It was
to swoon for.

Many Times — It was only natural that the top new vocalist of the pre-Rock 1950s would find his way to a Sigman song, this one written under the nom de plume Jessie Barnes. And it was equally natural that the recording of that song, by Eddie Fisher for RCA Victor, rose as high as #4 on the charts in 1953.

My Heart Cries For You — In 1950 Guy Mitchell kicked off a decade's worth of Mitch Miller-produced chart success on Columbia Records with this Carl Sigman-Percy Faith collaboration, which has gone on to produce similar results for Dinah Washington, Ray Charles, and Elvis Presley down through the years.

My Mood Is You — Lena Horne has recorded this song twice, first for an album with guitarist Gabor Szabo in 1969 and, more recently, on the Blue Note album We'll Be Together Again, dedicated to the memory of her close friend, Billy Strayhorn, in 1994. Words and music by Carl Sigman.

No Range To Ride Anymore — As a sideline to his ongoing career as crooner, trumpeter, and bandleader, Vaughn Monroe developed an alternate musical persona as a Western balladeer, most famously with "Ghost Riders In The Sky." This 1950 follow-up for RCA Victor, written in tandem with Peter De Rose, might well serve as an environmentalist's lament today.

Passe — Margaret Whiting, daughter of composer Richard Whiting, included this song among her string of chart records in the immediate post-WWII period for the new Capitol label.

Pennsylvania 6-5000 — The first big Carl Sigman-penned hit, #5 for Glenn Miller & His Orchestra on Bluebird in 1940. Its title was the telephone number of the Café Rouge at New York's Hotel Pennsylvania; today it remains that hotel's main switchboard number. And the song continues to be employed in films and on TV to evoke the era of the 1940s.

Robin Hood — Theme song of the popular British and American TV series of the 1950s was a top 20 UK hit for music publisher (The Beatles, Elton John) Dick James with Stephen James and his Chums on Parlophone in 1956, produced by George Martin. Revived with parody lyrics as "Dennis Moore" on Monty Python's Previous Record in 1972 and, more recently, in a series of radio commercials in Great Britain.

Shangri La — The "Ebb Tide" team of Sigman and Maxwell reunited and joined with composer-conductor Matty Malneck to come up with a song that became a big, brash 1950s-style pop vocal group hit for The Four Coins on Epic in 1957 and a hushed, introspective, almost spoken recording for Peggy Lee on her Capitol album In The Name Of Love in 1964. Also reprised in Forever Plaid, with a definite nod to the Coins.

Sleepy Shores — Question: add a Carl Sigman lyric to the hit 1971 theme for the BBC-TV series Owen M.D. and what do you get? Answer: this heavily Four Freshmen (or perhaps Brian Wilson)-influenced single cut by Ray Conniff and The Singers for Columbia in 1972. Unlikely, but true.

The Day The Rains Came — Written with Gilbert Becaud; a top 20 hit for Jane Morgan on Kapp in 1958. She also cut "Arrivederci, Roma," "It's All In The Game," "Till" and "What Now My Love."

The Saddest Thing Of All — A collaboration with Michel Legrand, this was the final Carl Sigman song recorded solo by Frank Sinatra, in 1975 as arranged by Gordon Jenkins for Reprise Records. (He did revisit "What Now My Love" in duet with Aretha Franklin in 1993.)

The Thousand Islands Song — One of three Angel In The Wings tunes by the team of Sigman and Hilliard to jump from Broadway to the charts in 1948 ("Civilization" and "Big Brass Band From Brazil" are the others), in versions by Sigman mentor and friend Johnny Mercer, and Arthur Godfrey, but represented here by a hilarious Louis Prima performance. Alternate title: "I Left My Love On One Of The Thousand Islands But I Can't Remember Which One."

The World We Knew (Over And Over) — When Frank Sinatra had a renewed run of chart success on Reprise in the mid-1960s there was a Carl Sigman song in the thick of it, a Bert Kaempfert collaboration, arranged by Ernie Freeman, that topped the Easy Listening chart and peaked at #30 on The Hot 100 in 1967.

There Is No Christmas Like A Home Christmas — Recorded by Perry Como for RCA Victor, with orchestra and chorus conducted by Mitchell Ayres, in 1950, this song became a staple of his annual Christmas television specials; today it is a holiday standard awaiting re-discovery.

Till — Best remembered as a girl group classic, as recorded by The Angels on Caprice in 1961, this song started life as a hit instrumental by Roger Williams in 1957. Tony Bennett cut a beautiful vocal version in 1959: Tom Jones charted with it for Parrot in 1971.

What Now My Love — With all those hits by Frank Sinatra and Nat Cole under his belt, Nelson Riddle went off to England in 1962 to score the film Lolita and while there found the time to arrange Let's Face The Music, an album by a very young Shirley Bassey. The album yielded a stunning rendition of this song which rose to #5 in the UK on EMI's Columbia label. Covers of the Gilbert Becaud collaboration ("Et Maintenant," en francais) have been plentiful ever since, including a #14 charted version by Sonny & Cher on Atco in 1966, as well as recordings by, among others, Frank Sinatra, Judy Garland, Elvis Presley, Barbra Streisand, The Temptations, Willie Nelson, Mitch Ryder, Miss Piggy and, most recently, French star Patricia Kaas in her first English language release, Piano Bar, on Columbia Records.

(Where Do I Begin) Love Story — When the movie Love Story opened in 1970 it seemed as though every middle-of-the road (that's what they were called back then) singer on the Columbia artist roster released a record of its theme. Written to Francis Lai's melody, there were versions by Tony Bennett, Johnny Mathis, Jerry Vale, even Jim Nabors, but ultimately it was Andy Williams who carried the day with a top 10 single that topped the Adult Contemporary charts as well. Shirley Bassey had also entered the fray with a lovely reading for United Artists which, nearly thirty years later, turned up on her The Remix Album…Diamonds Are Forever in an away-TEAM mix that found favor on dance floors internationally. In 1973, Sarah Vaughan demonstrated what only a great jazz singer can do to a by-then very familiar song, cutting an intensely personal interpretation "live" in Japan for Mainstream Records.

You're My World — In 1964, at the height of Beatlemania, producer George Martin brought 21-year old Liverpudlian Cilla Black into the studio and emerged with a recording of this Carl Sigman song that climbed to #1 in the UK for Parlophone. >

Carl (left) on the cover of The Cash Box in 1949, watching singer Art Mooney play hopscotch to celebrate the success of "Hop Scotch Polka," written by Carl with Peter De Rose (right). MGM a&r chief Harry Meyerson also looks on.